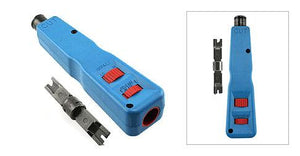 This twist in type tool will accept both 110 and 66 punch down blades, is spring loaded for maximum impact and has an adjustment to change force of impact. 
Fiberglass reinforced resin is used to make this tool sturdy enough for every day use and it even includes a compartment to store an extra blade.    Comes with a 110 & 66 blade. 
Uses the twist in type of blade.  Extra blades can be purchased on our site.  For the 110 blade the Item # is TL233-110 and for the 66 blade it is TL233-66.
Adjustable Impact Punch Down Tool with Storage Compartment (Includes 110 & 66 Blade)
TL233A
---
We Also Recommend