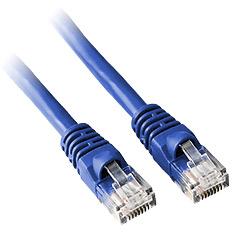 Enjoy our high quality 25 foot Cat6 Ethernet networking patch cables. Made from pure stranded copper (this is not the cheaper copper coated steel, also known as CCS that is out there). The pure copper allows the signal to travel farther without distortion, which in turn creates a better user experience.

The bandwidth capacity is 550MHz (which is the industry standard) and the wiring standard is TIA/EIA 568B (also the industry standard.) The rating is Category 6 (abbreviated Cat6 or Cat 6.)

These cables are also UTP, which standards for Unshielded Twisted Pair. It is the twisted pairs of wires that allow the cable to go longer distances without signal corruption and loss. The twisted wires actually cancel out noise to create a clean data signal resulting in better quality data.

The individual contacts on the RJ45 connectors are plated with 50 microns of gold and can be used for Ethernet data transmission as well as telco (Telephone) wiring.

When using our 25ft Cat 6 Ethernet patch cable for telephone installations, you can use them to connect both line one and line two telephone connections. This is because our TIA/EIA 568B wired Ethernet patch cables support both telephone line one and line two standards.

Here is the technical nuts and bolts of of Ethernet 568B wiring used for telephone installations: Telephone line one is wired to the first inside pair (pins 4 and 5 on the RJ45 connector) and line two is wired to the second inside pair (pins 3 and 6 on the RJ45 connector.) This is the same wiring as your telephone jack connections use. When looking at an RJ45 jack and wanting to use it for telephone use, the blue and blue/white connections on the jacks will represent line 1 and the green and green/white connections of the jack will represent line 2 (if you use a line 2.) Unfortunately telephone lines 3 and 4 are not supported in the TIA/EIA 568B standard.
25ft Cat6 Ethernet Patch Cable, Stranded Pure Copper Wire, 550Mhz, 24AWG, UTP
CB242-25BL
---
We Also Recommend