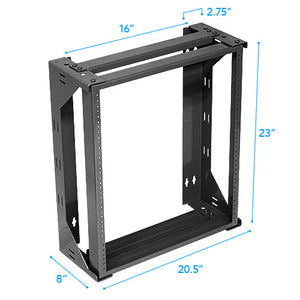 12 rack unit server/equipment rack.  Wall mountable swing out chassis, 8" deep.  Color is black. 
All your screws are enclosed in a handy re-usable plastic utility box which includes Velcro straps, and rack mounting screws (4 screws for every 1U of rack height). This box includes enough screws to completely fill up your rack.

Your rack also includes a metal template that doubles as a back brace and allows you to easily mount your level and mark the holes on the wall for accuracy. No longer do you have to try to hold your server rack up to the wall, and have two people try to line up the holes to drill!

These sturdy swing out server racks are built to last. Made out of 12 gauge heavy duty steel, they will more than do the job.  Coated in a tough powdercoat finish, your rack's surface is more resistant to chipping, scratching, fading or wearing than other finishes. Powdercoating provides one of the most durable and long-lasting finishes available.

Made in the USA, these swing out server racks are the necessary choice for your networking needs.

Black 12U Wall Mount Swing Out Data Rack, 8" Deep
HW923-4-12BK-V
---
We Also Recommend